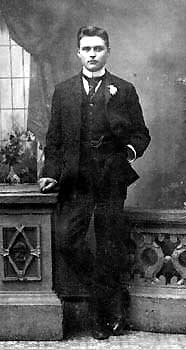 Count Alberto Castellini
Count Castellini was a hard master even by the standards of his time. At his olive-growing estates in Italy he made his tenants press the olives individually between their fingers, painstakingly extracting the oil in a process that could take up to one month to produce a litre of olive oil. "It may be slow," the Count is quoted as saying, "but I feel I can taste their sweat in it."
His reputation for haughtiness was legendary and he would snub anybody, even close friends, unless they were formally re-introduced at each meeting. Despite this hauteur his relationship with Jeremy appears to have proceeded to a level of intimacy such that he was able to write to his mother: ' ... I have met here in London a man who has asked that he may measure my neck. I may let him, even though I suspect he is a homosexual.'
He was recklessly and flamboyantly extravagant, once purchasing a thousand collars from Fortnum & Mason. On other occasions he would order more soufflé than he could comfortably eat. "I like to think that I have taken food from the mouths of poor people," he would say, "even though they cannot afford soufflé."
Like the Lenoirs, he always chose London for his convalescences.