The Selman-Troytt Papers
The Selman-Troytt Papers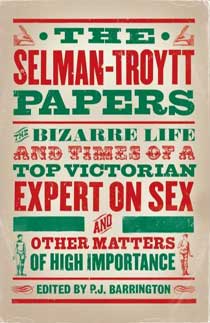 The Selman-Troytt Appreciation Society is extremely excited to announce that the venerable publishing house of Old Street Publishing has decided to publish a compilation of extracts from Selman-Troytt's works, journals and correspondence!
The Selman-Troytt Papers is the first anthology of Selman-Troytt's writing, and includes many of his masterpieces of prose and observation, such as 'Social and Sexual Etiquette' and 'My First Involuntary Ejaculation'. It also features Selman-Troytt's fascinating correspondence with Oscar Wilde, Benjamin Disraeli and Sigmund Freud among other luminaries of the late Victorian age. A wealth of biographies and portraits illustrate the context in which he lived, worked and created, whilst a plethora of introductions, indices, appendices and footnotes add greater depth to the portrait of this complex man of science. This compilation is a 'must' for all serious students of Selman-Troytt.
The Selman-Troytt Papers is edited by P J Barrington, a graduate of Mull University and one of the most devout Christians on the island. Although opposed to ejaculation on religious grounds - such as a churchyard - he agreed to bring his considerable editorial expertise to the project in order to further the cause of scientific research.
"Kudos to P.J. Barrington ... Victorian convention will never appear the same again."
Financial Times
"Those who like their humour clever, eccentric, heartless – a bit like Flann O'Brien on a nasty day – and focused squarely on the lower half of the body, will find plenty to enjoy here."
The Independent
---oooOOOooo---
How to Help All the Peoples of the World
The Selman-Troytt Appreciation Society receives a small commission on any book sold, so please purchase a copy for a friend or relative, even if they are not yet ejaculating prematurely.

In this way you will be supporting the vital work of the Society and helping to bring Selman-Troytt's teachings to unenlightened parts of the world, such as Basutoland and Arkansas.
Special Note for Web Historians
The Selman-Troytt
Postcard Emporium
is the oldest purveyor of E-cards on the Internet. A copy of our
first Royal Warrant may be examined here
. Since the granting of this illustrious award we have been patronised by aristocrats, many of whom insist upon using Selman-Troytt cards to express the depth and sincerity of their affections. Indeed many of our cards - particularly those concerned with incest and paedophilia - have been inspired by a close examination of the aristocracy.
Page generated in 0.0028 seconds.