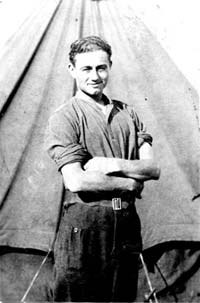 Boise Gilpaste
One of an unknown number of illegitimate children fathered by Jesse Selman-Troytt (a.k.a. Bill 'Foxy' Fivestars) as he made his way around the fairgrounds, circus tents and music halls of England, Boise was born in a large bag sometime in early 1910.
His mother, Ida Gilpaste, a circus juggler with a very limited frame of reference, was a willing recipient of Jesse's attentions and allowed herself to be 'entered whenever he wanted to spend himself in me. He said I should be grateful because of the state of my face. It was regular, but I could always hear him shouting out from behind me that we had to take things extra slow because of his knees.'
Following Boise's conception she grew much heavier and larger, events that overwhelmed her because she had yet to connect intercourse with pregnancy, an idea she would struggle with until her death some fifty years later.
When the baby finally arrived she was afraid and refused to acknowledge it at first, but later decided that she would keep the child once it was explained to her what it was.
Boise's arrival marked a substantial upswing in the success of her act because she quickly incorporated him into it. In place of three wooden clubs, she would often juggle two wooden clubs and the child, and thousands of spectators paid to see 'Ida & her Amazing Bouncing Baby' - a testament both to her occasional errors in coordination and the baby's physical resilience.
When Boise became too big even for the powerful Ida to throw with one arm, he was dropped from the act - an event which caused an immediate reduction in audiences since without him Ida was just a very large woman with only two wooden clubs.
Boise was a very slow talker and developer, a direct result of occasional head strikes during Ida's frequent fumbles on the 'Lamph-Kremenov Crossover' manoeuvre. Having left the act at the age of five he was now unemployed, and Ida began casting about for a suitable career opportunity for him. After very lengthy negotiations and preparation he became apprenticed to a friendly stall-holder and was tasked with the job of shaving coconuts in readiness for use in the Coconut Shy. He took to the work well, slowly learning to use the tools without injuring himself, but became increasingly fond of the coconuts and was emotionally distressed when they were broken.
At the age of twenty-five he was promoted to ticket-seller at the Shy, but grew nervous and fretful when out of range of the coconuts and soon asked to be demoted.
He never married, and remained largely unaware of women throughout his life. He was once importuned by an acrobat who found his muscularity attractive, but Boise found the episode frightening and fled saying that the hour was late and that there were nuts that needed to be shaved.
He maintained a close relationship with Ida because she lived in the same tent. She remained in charge of his underwear, meals and finances until the day of her disappearance, very shortly after she issued a paternity suit against Jesse to force him to recognise Boise as an adult male.